Blue Sky Clayworks Tea Light Tart Warmers
Our Blue Sky Clayworks tea light style tart warmers are made using high quality ceramic. Each warmer is hand-painted in adorable country detail. Warmers have a glazed finish inside and out.
Complete package includes care and use instructions, 8 of our hand-poured unscented tea light warming candles, and 6 of our hand-poured, highly scented wax tarts in your choice of fragrances.
(quantity in stock)
Honey Pot by Blue Sky Clayworks

$16.00 (2)

Blackberry Jam by Blue Sky Clayworks

$16.00 (2)

Blueberry Jam by Blue Sky Clayworks

$16.00 (4)

Strawberry Jam by Blue Sky Clayworks

$16.00 (3)

Tea Light Essential Oil Warmer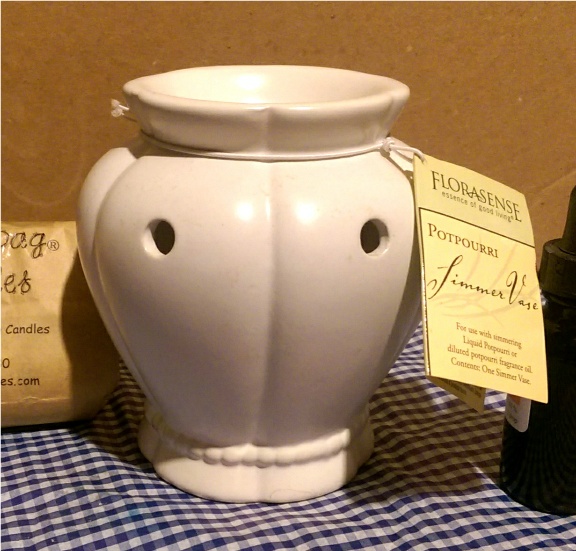 Complete package includes one ounce of essential oil in your choice of fragrance and 8 tea light warming candles.

**NEW** Clean Burning Votive Candles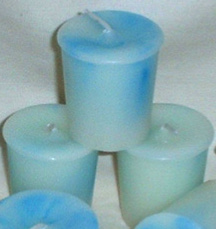 No Soot, No Smoke!! Just clean fragrance and a beautiful burn from start to finish. Great option for those who have smoke allergies or those sensitive to regular candles. Burn time 15 hours. Color will vary depending on the fragrance chosen.
Package of 4 Clean Burning Votive Candles $9.50


Fragrant Confections™ Chocolate Truffle Wax Tarts
Scents include:

Dark Chocolate Espresso, Irish Cream Liquor, Rich Milk Chocolate, Chocolate Hazelnut Cream, Amaretto Liquor, Chocolate Raspberry Dream

Electric candles
Electric candles are perfect for those who cannot burn traditional candles. Our grubby electric candles provide a beautiful candlelight ambiance without the open flame. Even though our candles do not have a flame the light bulb provides just enough heat to release the aroma without melting the surrounding wax. The silicone dipped bulb also provides a soft glow giving the look of a traditional burning candle. Flicker bulbs can also be used in our candles to enhance the look of a real burning candle.
Our electric candles come complete with light kit with on/off switch built into the cord, a silicone dipped bulb, and a rusty tin display plate. Everything is cello wrapped as a package and tied with a homespun.
Americana
Our Americana electric candle is super grubby with red and white wax over a base of light brown wax and hugged with blue and white homespun then decorated with a large rusty metal star. Candle is 3.5" tall by 4.5" wide.
Available in all of our fragrances.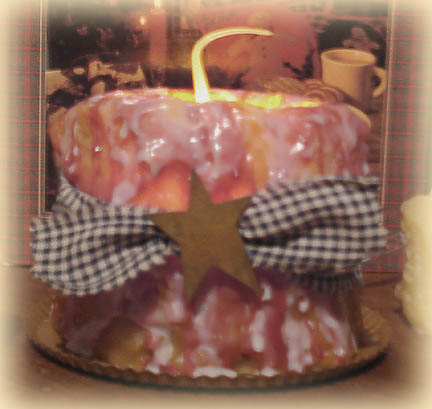 Americana electric candle
$25.00