Our clearance items are available in a limited quantity. Some fragrances are no longer available for re-order. When they are gone, they're gone. We will update this page as soon as possible after an item sells out. Please refresh your browser often. New items will be placed on the clearance page as we go through our stock, so check back often! These good deals will go fast!!


12 Count Bagged Tarts
Our 12 count bagged clearance tarts are available in several fragrances. These are the same high quality, triple scented tarts you have become acustomed to, however, we have either discontinued the fragrance or the exact fragrance is no longer available from the manufacturer. Our 12 count tarts are not individually shrink wrapped but are packaged by fragrance in bags as shown in the photo (below). Each package is fragrance labeled and decorated with a coordinating homespun fabric.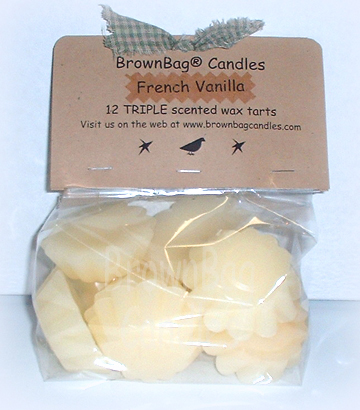 $8.25



Clearance à la carte" Tarts
Quantities of more than one tart can be changed in the shopping cart by increasing the quantity then click the "Recalculate" button. Shipping may need to be adjusted to reflect the exact shipping costs. Since single tarts only weigh one ounce it is difficult to figure the exact shipping cost for this item. Most often it is less than what shows in the shopping cart.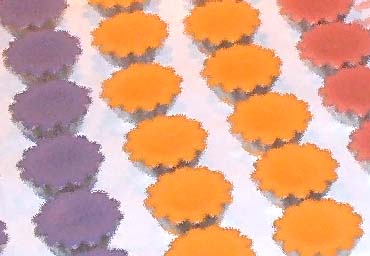 (Each tart is shrink wrapped and fragrance labeled).
$.85¢

Some clearance fragrances are limited in quantity
Clearance Tart Warmers
Our clearance tart warmers are overstock items. Some of the warmers have been gently used as demo's in my shop or at distributors' home parties. The used warmers will be clearly indicated. Many of our clearance tart warmers are discontinued by manufacturer or "one of a kind" units, and are not available for re-order. Click on the photo to see the larger image.
All of our clearance tart warmers are a complete package, each include 6 of our hand-poured, triple scented tarts in your choice of fragrance and 8 hand-poured unscented tea light warming candles.
Nativity Scene tea light tart warmer (1 available)

SIZE: 5" high X 4.5" wide

$12.00

Angels Electric Tart Warmer

(1 available)

$19.95

2 Piece Fruit Basket Electric

tart warmer (1 available)

$14.00

Burgundy Partylite tea light tart warmer (3 available)

$14.00